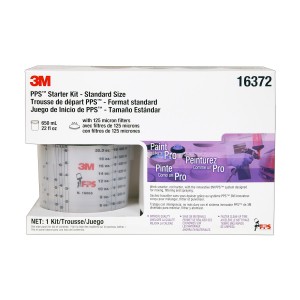 3M PPS Starter Kit Standard Size with 125 micron filters 16372
Item#: MMM 16372
The PPS Starter Kit provides an economical way to begin experiencing the benefits of the PPS system: minimal use of cleaning solvent, increased technician efficiency, decreased material consumption, reduction of cycle time.
3M PPS Starter Kit Standard Size includes 6disposable lids and liners with 125 micron filters;1 cup and collar; 1 bag of sealing plugs; and 1-generic mix ratio insert; for automotive over-the-counter sales.
125 micron filters are ideal for most Water-Base paint systems and can be used for primers, sealers, base-coat, and clear coats.
Your Price: $35.60