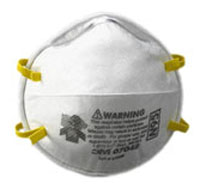 3M Particulate Respirator (20pk)
Item#: MMM 07048
Out of stock. No restock date at this time.

Designed for use in grinding, sanding and buffing applications in the automotive aftermarket. Lightweight, two-strap filtering facepiece respirators with an adjustable noseclip and new braided headstraps, this respirator helps provide excellent protection.
Workplace applications include grinding, sanding, and buffing. This respirator features 3M's Advanced Electret Media (AEM) and an adjustable noseclip to help provide a custom fit and secure seal.
If respirator becomes damaged, soiled, or breathing becomes difficult, leave the contaminated area immediately and dispose of the respirator.
Box of 20. 07048(08210)