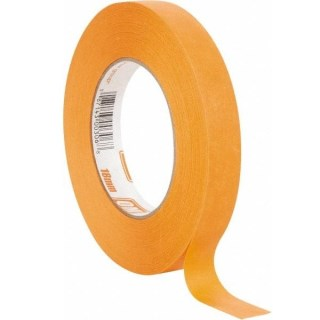 American Tape OM Orange Masking Tape 18mm 00306
Item#: AMT 00306
American® brand Orange Mask® (OM) is a high performance masking tape developed to provide superior adhesion, UV resistance and high conformability. OM unwinds and applies smoothly and removes cleanly to deliver clean crisp paint lines. The superior solution for all automotive refinishers.
PERFORMANCE ADVANTAGES • Sharp color separation on curves or straight lines • Exceptional cornering • Fine crepe paper backing ensures overall sharp paint lines • Smooth to the touch – easy to work with • High temperature resistance: 250ºF (121ºC) for 30 minutes • 3 day UV resistance • Excellent adhesion to backing when layered • Smooth and controlled unwind • Works with both solvent and waterborne paints • Clean removal; stain resistant; resists bleed-through • Superior for wet sanding applications • Resists paint flaking
18mm x 54.8m (0.70in x 60yd)
Case of 48 rolls.
Your Price: $358.01