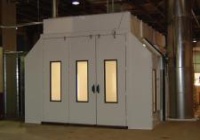 COL-MET Paint Booth
Item#: COL BOOTH
Col-Met designs and manufactures a line of automotive paint booths and systems to meet the most current demands of paint technology.
Whether you're using a solvent-based paint or a combination product with waterborne, they have the perfect fit for your shop or facility.
Due to different shop conditions please call for a price quote.