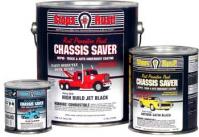 Chassis Saver Gloss Black 1/2 pint
Item#: PBE UCP99-16
CHASSIS SAVER™ is a high solids, VOC compliant, single component chassis paint and underbody coating specially formulated to permanently stop automotive and truck corrosion without the use of primers or topcoats.
Chassis Saver's unique "RUST STOPPING" properties permit its application directly over tightly adhered rust after only marginal surface preparation using a wire brush and/or hand scraper to remove loose scale and rust particulate. Optimum results can be achieved by sandblasting a medium blast profile to surfaces. Chassis Saver bonds to blasted and rusty metal to form a rock hard yet flexible, glaze-like, non-porous finish that won't crack, chip, flake or peel. It works by isolating metal from oxygen and moisture, and without these factors present... RUST STOPS – Dead in its tracks! Chassis Saver cures by reacting with atmospheric moisture and its cured film resembles that of a catalyzed finish yet no hardeners or activators are used. Chassis Saver is completely unaffected by road salt, gasoline, diesel fuel, oils, battery acids, hydraulic fluids, solvents, chemicals, or corrosives.
UCP99 Gloss Black – As a primer or finish coat, Chassis Saver has become the industry standard for high performance protection on all vintage truck and auto underbody surfaces including frames, floor boards, engine compartments, trunk areas, under fenders, fire walls, rocker panels, behind bumpers, etc. The #1 choice for fleet maintenance at hundreds of public works facilities, DOT shops, truck maintenance and fleet refinishing shops nationwide. Extensively used on snow and ice removal equipment saving thousands of dollars in costly repairs.
Your Price: $20.50