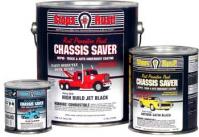 Chassis Saver Silver Quart
Item#: PBE UCP934-04
CHASSIS SAVER™ is a high solids, VOC compliant, single component chassis paint and underbody coating specially formulated to permanently stop automotive and truck corrosion without the use of primers or topcoats.
Chassis Saver's unique "RUST STOPPING" properties permit its application directly over tightly adhered rust after only marginal surface preparation using a wire brush and/or hand scraper to remove loose scale and rust particulate. Optimum results can be achieved by sandblasting a medium blast profile to surfaces. Chassis Saver bonds to blasted and rusty metal to form a rock hard yet flexible, glaze-like, non-porous finish that won't crack, chip, flake or peel. It works by isolating metal from oxygen and moisture, and without these factors present... RUST STOPS – Dead in its tracks! Chassis Saver cures by reacting with atmospheric moisture and its cured film resembles that of a catalyzed finish yet no hardeners or activators are used. Chassis Saver is completely unaffected by road salt, gasoline, diesel fuel, oils, battery acids, hydraulic fluids, solvents, chemicals, or corrosives.
UCP934 Silver-Aluminum – As a pre-primer under gloss or antique-satin black. Heavily filled with over two pounds per gallon of flake aluminum to help smooth and fill pits and deeper rust damage. Incredibly dense yet extremely flexible. Commonly used for marine barge and oil field maintenance. Great for metal roofs, steel truck rims and to rejuvenate tired, rusting chain link fence.
Your Price: $49.90