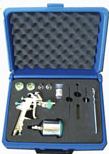 Warwick 878SHE Detail Gun Kits
Item#: HAW 878SHE KIT
Warwick 878SHE gun kit. Available with one or two extra nozzle sets in plastic case. Kit includes 878SHE (suitable for waterborne and solvent) gun , one or two extra nozzle sets, cup of choice, repair kit, tool and hard case.
Technical Data
Operating Pressure: 4CFM @ 29PSI
FAN: 6"
Finish: Nickel Plated
Weight: 0.66lbs
Body: Aluminum Die Cast
Can be adapted to the Warwick CUP-27 Series with adapter #27 available separately.
For disposable cups: Use 3M PPS adapter #21(16105), PPS 2.0 #S21(26105)
To see pricing. Select the one or two nozzle set option, gun nozzle size and cup option.
If selecting the two extra nozzle sets option enter the second nozzle set size in the shopping cart.