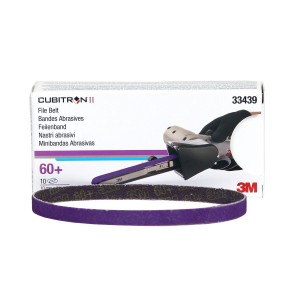 3M Cubitron II File Belt 60 grade 33439
Item#: MMM 33439
Best in class 3M™ Cubitron™ II File Belts for use with the 3M™ File Belt Sander as an improved control and ease-of-use alternative to spot weld drilling and many common body shop metal grinding applications.
Contains 3M precision-shaped abrasive grain, coated on a heavy duty backing. Resin bonded for heat resistance. Coated with a dry grinding aid to help reduce heat build up.


3M precision shaped ceramic grain fractures into sharp points that cut exceptionally fast, helping increase productivity
Cubitron™ II abrasives are engineered to run cooler, reducing metal discoloration/oxidation and the chance of heat related stress cracks
Coated with a dry grinding aid to further enhance the product's ability to run cooler and cut faster
For use with 3M™ File Belt Sander 28366, 33573 and other file belt tools.
Your Price: $20.35