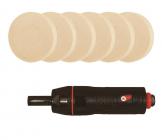 Astro Pneumatic ONYX Adhesive Removal System
Item#: APT 500ARS6
ONYX Adhesive Removal System - Includes 1pc 500ET and 6pc 500E
The Adhesive Removal System was developed for the quick and easy removal of pinstripes, adhesives, double-sided tape, and moldings.
The Adhesive Removal Tool has two speeds: 2,000rpm for removal of pinstripes and 4,000rpm for the more stubborn double sided tape and decal removal.
Includes 6pcs of the 500E Rapid Eraser Pad, which are designed for tougher projects that require a more aggressive eraser saving time and money.
Constructed with a lightweight design to reduce operator fatigue during use.
Specifications:
Disc Capacity: 4"
Free Speed: Min: 2,000RPM; Max 4,000RPM
Overall Length: 7 ¾" (197mm)
Net Weight: 1 ¼"lb (0.56kg)
Air Inlet Thread NPT: ¼"
Air Hose I.D. Size: 3/8" (10mm)
Air Consumption: 4cfm
Air Pressure: 90-120psi"
Your Price: $159.45