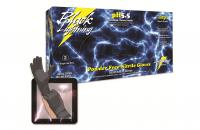 Atlantic Safety Black Lightning Nitrile Gloves
Item#: ATL BL
BLACK NITRILE GLOVES - 6 mil with pH5.5 Technology!
Atlantic Safety Products take great pride in providing gloves that offer serious protection from your work environment while keeping your most important tool, your hands, in top condition for maximum productivity. Black Lightning gloves offer excellent barrier protection!
Breakthrough pH5.5 Technology! Made to match healthy skin's natural pH5.5 levels to ensure the MOST comfortable fit yet!
Unique formulation reduces excess perspiration
Quadruple washed - no excess chemicals lingering on the glove
Super strength and stretch - no more tearing
Fully textured grip
Approved for medical use
Tested against fentanyl
Your Price: $43.54