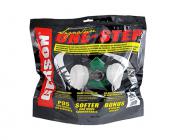 Gerson 8000 Series Respirator
Item#: GER 8000
Out of stock. No restock date at this time.

8000 Series OV/P95 Low Maintenance Cartridge Respirator
• Recommended for Paint Spray applications, including oil-based paints.
• NIOSH OV/P95 approved for Organic Vapor plus Solid & Oil aerosols.
• Includes Bonus Hygiene Guard & Shape Retainer insert.
• Completely assembled & individually packed in resealable 4-color foil bags.
• Best design, performance and comfort.
Your Price: $15.99