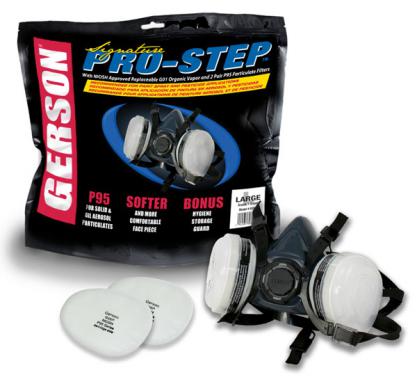 Gerson Pro-Step Respirator Kit Large
Item#: GER 9391-KIT
Out of stock. No restock date at this time.

PRO-STEP PROFESSIONAL SERIES HALF-MASK SILICONE RUBBER RESPIRATOR KITS WITH REPLACEABLE OV/P95 CARTRIDGES
• Recommended for paint spray applications, including oil based paints, and pesticides.
• NIOSH OV/P95 approved for Organic Vapor plus solid and oil aerosols.
• Each Facepiece provided with a unique, bonus "Hygiene Guard" for clean storage and product protection.
PACKAGING: 1/bag, 12 bags/cs
Includes 1 Facepiece, 2 Organic Vapor Filters,
2 pair P95 Particulate Filters and 2 Retainers
Your Price: $26.61