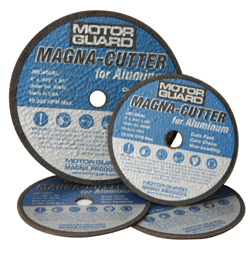 MotorGuard Magna Cutter Wheel AL
Item#: MGC Magna-Cutter
Motor Guard's Magna-Cutter abrasive cut-off wheel has been specially formulated to cut aluminum fast, cool and clean with no loading. A resin-bonded abrasive cut-off wheel specifically designed for cutting automotive aluminum body panels and structural components.
The Magna-Cutter is available in 3" (JMC300AL) and 4" (JMC400AL) diameters. These Type 1 wheels are made in the U.S.A. of the highest quality abrasives and materials. Unlike standard wheels, they contain no ferrous materials, ensuring contaminant-free cutting of aluminum body panels and structural components. Technicians report that the Magna-Cutter exhibits exceptionally long wheel life and has quickly become an aluminum tool box essential.
Magna-Cutter Wheels
JMC300AL - 3" x .040" x 3/8"
JMC400AL - 4" x .050" x 3/8"
5 Pack
Your Price: $34.75