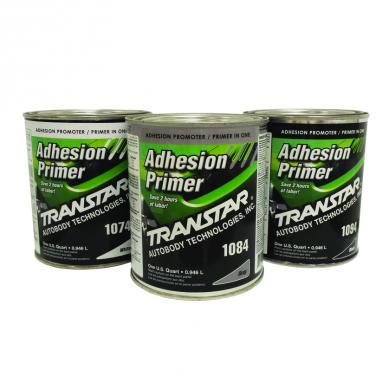 Transtar Adhesion Primer Quart
Item#: TRN 1074-1084-1094
This unique combination of adhesion promoter and primer provides significant labor and cost savings. It can save up to 2 hours of labor when prepping a raw or previously primed bumper or plastic part. Adhesion Primer is a single component non-sanding primer.
Significant cost savings - save up to 2 hours of labor time when prepping parts. Eliminates the need for prep paste and scuff pads. Reduces damage to new bumpers caused by abrading of plastic substrates. Ready to use. Quick dry time allows for fast application of topcoat color. 1 coat coverage. Mix using the Star Shade System to get the perfect color for ideal hiding. Combines adhesion promoter and primer in one step.
White, Gray, Black-Can be intermixed to create desired shade.

--------------------------

White SDS

Gray SDS

Black SDS

Your Price: $78.50