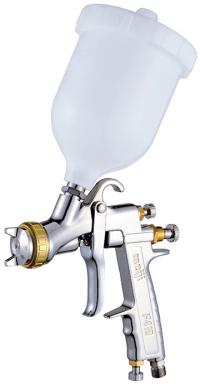 MEIJI AIR Gravity Feed HVLP Spray Gun F410
Item#: MEI F410-GxxHVLP/6CP
Coming from Japan this high performance well balanced HVLP spray gun is suitable for waterborne coatings and produces a beautiful finish. The lower resistance packing reduces trigger load and the long lasting chrome plating is easy to clean.
Nozzle Bore:1.3mm(0.051in) 1.4mm(0.055in)
Standard Air Cap: HVLP
Spraying Pressure 29psi(0.2MPa)
Spraying Distance: 7.874in (200mm)
Air Consumption: 13.6cfm(385L/min)
Paint Spray Volume: 1.3mm-135mL/min 1.4mm-140mL/min
Pattern Shape: Tulip
Weight: .91lbs(415g)
Air Inlet Size: 1/4npt
Comes with 600ml plastic cup.
Your Price: $283.00