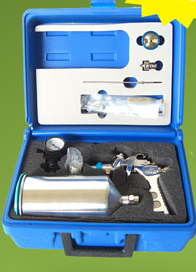 Warwick 904HE-AC GUN KIT
Item#: HAW 904HE-AC-GUN-KIT
The Warwick 904HE has an aluminum die cast gun body and features stainless steel throughout fluid path making it suitable for waterborne and solvent materials The 904HE is also lightweight, and has extremely smooth atomization.
HVLP operates at 9 CFM at 29PSI
The 904HE-AC gun kit includes the plastic case, gun, an extra nozzle set, regulator, repair kit and tools.
Specify BOTH nozzle sizes(1.2-2.5mm) you would like in the shopping cart.
Sizes available:
1.2mm, 1.3mm, 1.4mm, 1.6mm, 1.8mm, 2.0mm, 2.5mm
For disposable cups: Use 3M PPS adapter #2(16003), PPS 2.0 #2(26003) or Devilbiss Dekups DPC-11.
Your Price: $278.95